BMT has completed thousands of commercial depreciation schedules for a range of commercial properties including:
Farms
Warehouses
Hospitals
Offices
Restaurants and hotels
Both commercial property owners and commercial tenants can claim depreciation. For some commercial properties, deductions can total hundreds of thousands of dollars and when claimed correctly can turn a negative cash flow into a positive one.
BMT Tax Depreciation's CEO, Bradley Beer, talks about the BMT process.
Why choose BMT Tax Depreciation?

Comprehensive reporting
Our commercial depreciation schedules
can be split for multiple entities, tenants and assets purchased at different times.

Complimentary estimates
We will provide a complimentary
depreciation assessment before you
proceed.
Deep industry knowledge
We apply our knowledge of industry
specific legislation to maximise depreciation deductions and ensure compliance.

The BMT Guarantee
If we can't find double our fee in
deductions in the first full financial year,
there will be no charge for our services.
A commercial tax depreciation schedule from BMT can include:
Separate reports where multiple entities or tenants control different assets or have different acquisition dates
Removed division 40 and 43 assets, allowing residual value balance adjustment write-offs for demolished construction work and removed assets
Depreciation assessment of abandoned fit-out assets by tenants for residual value write-off purposes
Comprehensive asset registers, including photography and a fair market valuation, location, make and model for each asset
A complimentary review of existing depreciation claims to identify areas where your current claim isn't maximising your deductions
All applicable accelerated rates, general business pools and current instant write off available for business
A transaction due diligence review of depreciation claims and potential claims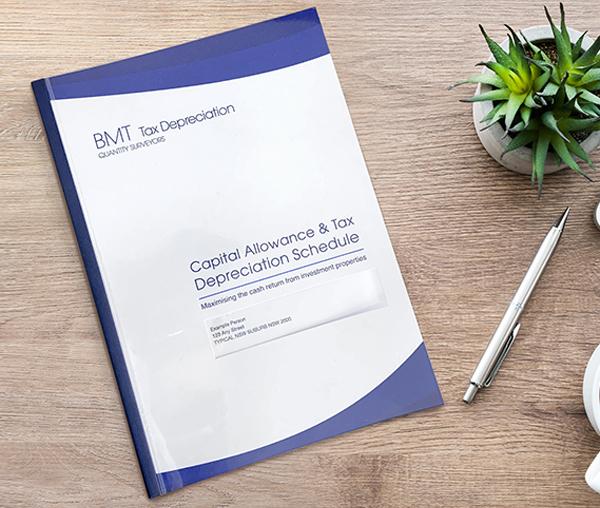 Renovated pub
Purchased price $1,100,000
Office building
Purchased price $1,100,000
Dairy farm
Purchased price $3,600,000
Vineyard
Purchased price $4,500,000
Renovated pub
Purchased price $1,100,000
Office building
Purchased price $1,100,000
Dairy farm
Purchased price $3,600,000
Vineyard
Purchased price $4,500,000
Commercial depreciation schedule FAQs
Visit our blog BMT Insider to read our latest articles